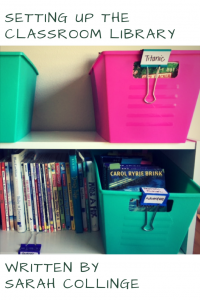 Setting up the classroom library can be a daunting process. How do you organize books? Do you focus on reading levels or sort books by genre? Do you sort books into bins or place them on a shelf, spines out? How many books should be in a classroom library? And how do you create a classroom library on a dime?
For many years the focus of classroom library organization has been on level. The independent reading theory—the notion that students have to be matched to a 'just-right' book for independent reading—has fueled this trend. Teachers have spent countless hours labeling books according to quantitative levels such as AR, Guided Reading, and Lexile. As it turns out, data supports matching students to an exact level only at the primary grades where students are emerging and newly fluent readers.
With K-1 readers, 95-100% accuracy relates to comprehension. This is because readers at this level have limited strategies to figure out unknown words. Short text is the focus of reading at K-1 when reading is exhausting and stamina is limited. But as students become fluent readers in 2nd and 3rd grade, 87-100% accuracy relates to comprehension. Finding an exact reading level is less important at the intermediate grades.
Once students become fluent readers, the focus shifts from matching students by level, to matching students to texts based on background knowledge. Catherine Snow tells us, "It is the match or mismatch between characteristics of genre, subject matter, and a reader's capabilities that determines the likelihood of successful comprehension (2002)." So how should teachers set up their classroom libraries?
Leveled Text
Organize books by level for K-1 readers. Focus on leveling texts for students reading at levels
0.1 – 2.5 (AR), A – L (Guided Reading), and below 400 (Lexile).
All other books—levels 2.6 + (AR), levels M + (Guided Reading), and 405 + (Lexile) will no longer be sorted by level, but sorted according to genre, topic, and author/series.


Genre/Topic/Author/Series Bins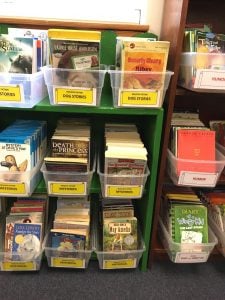 While books for readers at a mid-second grade level can still be labeled according to level, sort these books in your classroom library by genre, topic, author or series. This way your students can 'shop' for books by interest first, and consider the level second.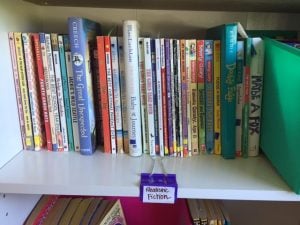 I like to sort genres onto shelves with the spine of the book facing out, just like students would experience when searching for books in a school or community library.
Genres might include: Realistic Fiction, Historical Fiction, Mystery, Science Fiction, Fantasy, and Nonfiction. Come up with a way to label the shelf so that students know where to find each genre for both book shopping and returning.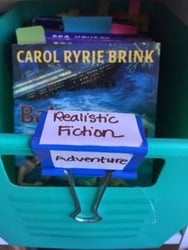 If you would like to highlight a sub-genre such as realistic fiction-adventure, remove these books from the realistic fiction shelf and place them in a bin. Label the bin so students can find this sub-genre easily.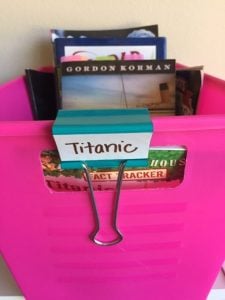 Another way to sort books is by topic. If students are learning about the Titanic in social studies, create a special place in the classroom library to highlight this topic. Note that as you are sorting books by topic, you may find books of varying genres. In the Titanic topic bin you will find nonfiction, historical fiction, and biography.
When selecting topics to highlight, think about what topics you will be covering in your content area curriculum across the school year. Focus on gathering books within these topics and displaying them during the time of that particular unit, when students are eager to learn more!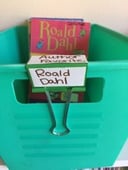 Sometimes students will get excited about a particular author. Help them find other books by the same author by creating author bins in the classroom library. Focus on authors you are studying within your reading curriculum.
Reading across a series is a wonderful way to motivate readers to read a lot of books across the school year. Some series books can be read in any order, for example the Magic Treehouse series (Osbourne).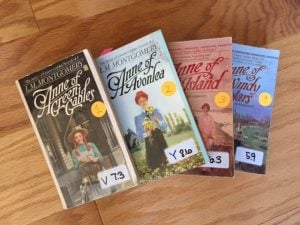 Other series books have to be read chronologically, for example the Harry Potter series (Rowling). Use a permanent marker to number these books clearly. Series books can either be placed on a specific shelf, or organized into bins.
Short Text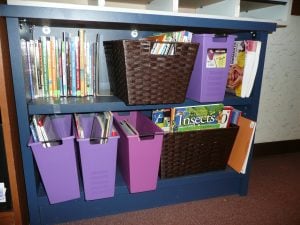 Keep in mind that within a school day, there are more opportunities for 'short' reads than 'long' reads. This is because the day becomes fractionated due to block schedules and interruptions. Students often have only 5 minutes to read after finishing an assignment early before they have to shift to lunch and recess. For many students, 5 minutes isn't enough time to read an entire chapter. And stopping in the middle of a chapter often impedes comprehension. Therefore, have a place in the classroom library for students to find short text. This would include picture books, short story collections, poetry, nonfiction, articles, and magazines. Teach students to use these short reads to fill 5-minute blocks of time.
Double Copies
The highest reading motivator is collaboration. When readers have someone that they can talk about a book with, they are more motivated to read that book. Therefore I encourage multiple copies of books within your classroom library. Teach students who like to collaborate with a peer to shop for books that have double copies and invite a friend to read the book with them. Allow these students to pair up once in a while to talk about the book they are reading, and ask questions if they have confusion.
While teachers value classroom libraries and want to provide a rich selection of books for students, many have limited funds for putting together a classroom library. In schools that have a well-established school library, supported by a full-time librarian, classroom libraries are less important. Work with the school librarian to find out how students can utilize the school library during unscheduled library times. Can they check out books during recess and lunch? Can they come down at specific times during the instructional day to return and check out a book?
If your school does not have a well-established school library, the classroom library becomes more important. Talk to the PTA and other foundations to see if grants are available. Seek out and accept donations from retiring teachers, libraries, families, and used bookstores.
Finally, remember that for some students who have not yet established their reading identity, too much choice can be paralyzing. Set reasonable goals, and build your classroom library over time.
More on this topic:
http://www.readingrockets.org/article/creating-classroom-library
https://www.scholastic.com/teachers/blog-posts/john-depasquale/3-ideas-launch-new-classroom-library/
To purchase Book Boxes for your classroom library, visit the Read Side by Side online store!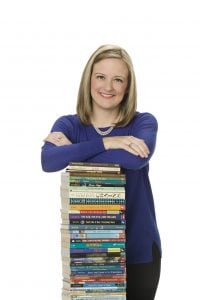 Written by Sarah Collinge
Founder and President