My Classroom Setup
I've come to look at setting up my classroom as my chance to be an Interior Designer. I get to decide how my classroom will look and function to best meet the needs of the students and myself. This is especially true this year as I've moved to a new classroom, and I currently have 28 3rd graders on my class list!
Classroom Library
For me, organizing my classroom started with my classroom library. I wanted to create a corner that would allow access to all the books without creating a place for students to hide. I placed my tall book shelf in against the wall followed by three smaller bookshelves. I then took a shorter book shelf and placed it perpendicular to the other bookshelves. This created the reading corner I wanted, without a hiding place.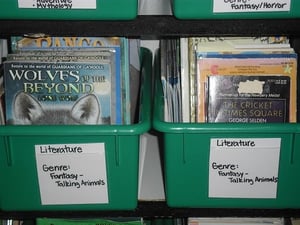 After going to many CIA trainings and hearing Sarah talking about the importance of teaching students about different reading genres, I decided to reorganize how my books were organized. Last year, I had organized my books based on reading level. This year, I decided to sort my books by reading genre. Each tub of books is labeled with genre. For books that were part of a series, I also provided the genre. As we learn about each genre, I'm going to add a sticker/label that says something along the lines of, "Same genre as Poppy" for example. We are doing more with Common Core this year as a building, and I decided to add the phrase, "Literature" or "Informational text" to the top of each of the labels.
Meeting Place
In my opinion, the one thing you most definitely need in order to implement CIA, is a meeting place. The meeting place is where all the real work happens. With my classroom library in place, and creating a corner, I had the perfect place to meet! It is in a somewhat closed in place that will allow us to get close to share our thinking during turn and talks. Also, two bulletin boards were close by to hang up all the charts that we are going to create as we read our books this year.
I was so tempted to hang something up on the bulletin boards because they looked so empty, but I held back for the most part. I did hang up our place for our turn and talk stems. There are many ways to display the turn and talk stems, but do what works best for you. I tried the sentence strips, but I found I often misplaced them. For this reason, I simply took a piece of construction paper and created the heading, "Turn and Talk" and then laminated it. Now, I can write up the turn and talk stem for that day on the paper. No muss, no fuss, and no lost sentence strips. I did type up the different response stems, and they are always posted. It always amazes and excites me on how some students use the response stems when we are having class discussions in other content areas. At soon as I've created the partnerships for turn and talk, I'll be hanging up a poster of those as well.
Next I decided to hang up posters that show what we are going to talk about and do at each of the different quadrants in our books as well as the first genre chart. In the past, I've created my own versions of these posters, but I've found that I like the posters created by Sarah and company much better. They are clear and easy to read from a distance. I also really like the visuals a lot! For the CIA quadrant posters, the CIA letters are large and have a fingerprint in the background which I like. I especially like how the genre charts have pictures of characters that could possibly be found in that given genre.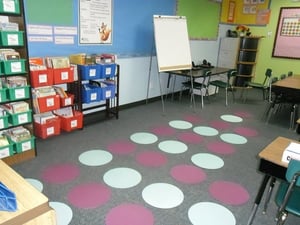 In the past for the actual sitting in the meeting area, I've had pillows and a nice big carpet. Both worked well, but I found that the students had problems defining their space. For this reason along with probably needing to move desks away to make more room for the bigger class, I decided to change it up this year. On a recent trip to IKEA, I purchased some round light blue and violet placemats. My thought is to have each partnership use one of each of the colors of placemats. When assigning who is going to talk when, I'm going to refer to the color of the placemat. When we aren't using the placemats, they can be picked up and put on a bookshelf that is creating the meeting area.
Use Your Walls
I like to use the most of my wall space. In my new room I have 3 larger cubbies built into the wall above my coat hooks that can be used for great storage for my many treasures. I don't like to have students have to look at my clutter, so I like to hide it in some way. With some help from my mom, I now have curtains to hide my things. Well, I just couldn't leave them plain! I got out my fabric markers, and my copy of the teacher's guide for Poppy and decorated my curtains.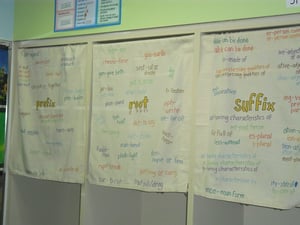 The first curtain has prefixes, the second has roots, and the third has suffixes from the vocabulary packet. In the past,I've had students read posters and then tell me what they said. So,I'm thinking the same thing might happen with the different word parts. Since they are right above the coat hooks, the students will be looking at them at least twice a day if not more!
Have fun setting up your classroom! Can't wait to let you know how Poppy is going in my classroom in my next blog entry.
Happy Reading!
---
Written by Dawn Smith --- 3rd Grade Teacher