Updates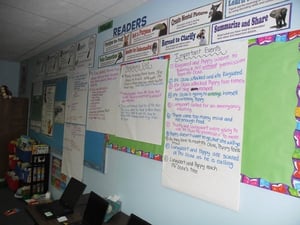 I'd like to start this blog with a few updates since my last blog. In my blog, about setting up the classroom, I had shared how my CIA area was all set up, and I how I wasn't sure about the blank walls. Well, my walls are no longer blank! We've created so many charts in reading Poppy that I don' t have much room left, and if anything need to find some more wall space for the charts we have yet to create. I could easily take down the charts that we may not be adding more information onto, but I like leaving them up to show what we have done, plus when my students are doing independent reading, they work on completing some of the same activities we have done within CIA for their own books and I like to have them up as a reference. You might notice how I use different colors within the same chart. The reason I do this is that it is easy for both myself and the students to differentiate the different pieces of information (plus I just like things to be colorful).
In my last blog, I also mentioned how within my classroom library I had the books sorted by genre. Once we discussed and learned about the genre of Poppy (Fantasy with talking animals) I went ahead and added "The same genre as Poppy" to these bins. I've noticed that more students are reading books from this genre!
In terms of introducing the genre, I stumbled upon a really cool idea without thinking about it when I had it planned. I always like to start the school year by reading aloud, Chrysanthemum by Kevin Henks. Well, I read it aloud like in the past, and then found myself referring to it as an example of Fantasy with talking animals. It was great! The students were able to see all the aspects of the genre within a shorter text and make the connections to the longer text of Poppy. I'm thinking I'm going to introduce each genre this year with a picture book.
Orally Sharing, Then Doing the Writing
I'll be honest, I was unsure of how CIA would look in the 3rd grade classroom. I had taught CIA units with 4th graders and knew how they had struggled with the writing and wasn't sure how 3rd graders would deal with it. Thinking back on it, I have no idea why I was so worried. Sarah foresaw how 3rd graders might struggle and how they would just need some extra support. I love how on day #11 when the students are to recall important events, there is an option to create a class Important Event list. This was huge for my class! My students are very slow writers, and if they would have done the writing, it probably would have taken us 2 CIA sessions to copy the chart.
I've known that if a person can orally share their ideas then they can share their ideas in writing. I love how Sarah has added this simple idea into the 3rd grade CIA. On day #13, learn the format of the retell summary and then share it with a partner. My students had a typed up list of Important Events, and we added extra information to the chart such as transition words, the introduction, and a prediction at the end. I modeled a retell summary for my class using this information, and then had the students share their retell summaries with their partners. Wow! Their retell summaries were amazing! I was excited to see how the students were able to use the important events just as they were on their chart to adding extra details, descriptions and vocabulary from the story in their retell summaries. The following two days the students wrote their retell summaries, and they were just as good. Yes, we need to work on conventions, but the ideas were there! I can easily see us orally sharing our ideas for a writing piece before doing the actual writing.
Connections
When I teach, I have a tendency to add things to the curriculum. I find that it helps the students better understand the topics, brings it alive, it helps to build background as well as make connections. Sarah says this in her trainings and I have to agree, read the book before you teach it! It is because of reading the book ahead of time that I was able to find activities and things to add to our reading of Poppy that is helping the book to come alive.
On day #15 of Poppy, the students are to look at the author's craft and use of irony. The majority of my students are English Language Learners so I knew that for irony was a topic that we would need to talk about quite a bit before even reading the book. After our discussion, the students understood more about irony, but thought they needed more expose to it. I found the YouTube video, "20 Best Ironic Photos, Oh the Irony". It was perfect! We watched the entire video once, before watching it again to stop and talk about most of the photos. I knew the students understood irony and could recognize irony when we read Poppy and the students were able to share what irony means, and an example of irony. They often referred to the dog eating the obedience school certificate or the fire extinguisher on fire as examples when explaining what was ironic in the book.
In the beginning of Poppy we meet Mr. Ocax with a great description of what he looks like. When I read this, I thought it would be great for the students to create their own owls, and write a description of them. I found a craft where students could create an owl using a toilet paper roll that is dented in at the top and taped shut with masking tape. Students then paint and decorate it. We did this and the class had a lot of fun.
During writing we had been talking about adjectives. The students then used this knowledge to write a descriptive paragraph about their owls so that a reader could identify it based on their description. What resulted is probably my favorite bulletin board. Under each owl is a leaf with a letter on it, and under the flap on the student writing is " I am owl ____" with the letter of the owl on it. This was up during our Open House, and many of my students were happy to come in and tell me how their family member was able to figure out which was their owl by matching up their writing with the owl.
"Mr. Ocax belched, bringing up a pellet of Ragweed's bones and fur as well as the earring, which he had been unable to digest" (Poppy p. 17).
Yes, when I read this line the first time, I was a bit grossed out, I won't lie. Then I thought, "Hmmm… that could be fun!" I did some looking around, and I was able to find some owl pellets. When we got to this point while reading the book, I paused and gave the students some more information about owl pellets and shared how we were going to dissect some the following day.
The following day, we watched the very short YouTube video, "Did You Know Owls Spit Up Pellets?". This provided a bit more information, and the students were able to see what actually happened. Students then dissected their owl pellets with a partner. It was so great! They found so many bones, and using a chart I had found, the students were able to identify what types of bones they were. I think this activity will probably be one of our highlights of the school year. We had put our owl pellet finds in Ziploc bags and at our Open House, the students had fun telling their families about owl pellets and what they had found in them.
We still have over half of the book left, and I can't wait for the upcoming connections we will be making. Once the students meet Ereth (the porcupine in the book) we'll be looking at some porcupine quills. Also at some point in our reading, we are going to read some nonfiction books about the animals in the book. (See the very end of this blog for a book list).
In my head, these are some small connections that can be made when reading Poppy. I can't wait for the big connection. While reading the book and learning how Poppy's family needs to move to New House for more food, and how Mr. Ocax eats the mice, I thought of food webs and food chains. In my district, we use science kits and have some time between kits. After my current science kit we'll take the time to learn about food webs and food chains and make the connection back to Poppy. I haven't figured out all the details, but I can't wait! (Again, see the very end of this blog for a book list that I envision using).
The reason it is possible to make these connections is because of the books that are read as a part of CIA. With the story Poppy the connections can be made with science, with the Martin Luther King Jr story and Glory Be it will be with social studies. I can't wait to find activities and sources to help these stories come alive for my students.
Until October, Happy Reading!
Books to be used with Poppy
*Owls by Gail Gibbons
*Animals that live in the forest – Porcupines by JoAnn Early Macken
*Porcupines by Mary R. Dunn
*A porcupine named Fluffy by Helen Lester
*Who eats what? Food Chains and Food Webs by Patricia Lauber
*Forest Food Chains by Bobbie Kalman
*Pass the Energy, Please! By Barbara Shaw McKinney
---
Written by Dawn Smith --- 3rd Grade Teacher