"But it was so much fun!" This was in response (from my most busy girl) to a very long catch-up reading session, after which I drooped and said, "Thank you for sticking with it today. That was a lot of work!" When she said that, I perked back up.
She was right—it was fun! We co-created charts (we're old hands at that now) for all the story elements; collect, collect, collect. We decided to make family trees after discovering the relationships among our main characters. We added, in a very "organic aka disjointed" style, other characters that were connected to our main families by placing them near the original trees. For our setting map, we had friendly debates about the placement of the neighborhood landmarks. We also decided to use our map from MLK's biography for Glory Be since it seemed to mesh so well (and we had really invested time and energy into Martin and Coretta's journey on that map… yet another CIA novel to hold dear in our memories. We often say, "Were they a hero like Poppy or like Martin? Were they a villain like Mr. Ocax or Bull Connor?")
Prior to reading Glory Be, we read several fiction and non-fiction works around Freedom Summer 1964 (50th anniversary!) and the MLK map guided us through other events (like the route of the Freedom Riders) in the south. We also explored books that filled in some of our questions about African-American experience from slavery to today, including The Great Migration (specifically by authors Deborah Wiles: Freedom Summer, and Jacqueline Woodson: The Other Side, Show Way, and This is the Rope.)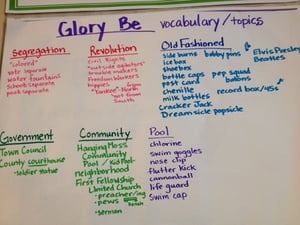 As I read Glory Be to prep for this unit, I decided to make a category chart for unfamiliar terms students would have to navigate beyond vocabulary study. I like to group words for specific ideas and settings. Immediately, students referred to this chart (it was not co-created but we went through each word before reading the book and talked about what they meant. If we couldn't generate student definitions, I found a picture on the internet. For a group with more vocabulary needs or less background knowledge, I would have pre-made picture supports as well.) This is especially important in historical fiction, which automatically places a high demand on student concept vocabulary through unfamiliar references to pop culture and time period norms. Included topics on our list were neighborhood/city ideas students may not be aware of yet (like a town council), ideas started in MLK (revolution and segregation), and words that are specific to a setting place like a pool (swimming accessories), church (pew, preacher, sermon), or setting time period (old fashioned words like record box, icebox, pep squad.) I stuck with words that actually impacted our visualization of the story. During this discussion, a couple students veered onto the topic of green hair from chlorine, so they already had that picture in their minds when it was mentioned in the early chapters! We listened to some Beatles and Elvis as well, and have a running vote in the class for which we prefer. (I'm not really sure how much is music appreciation and how much is with which character the students most identify: Jesslyn or Glory.)
We have just finished the first quadrant. When going back to sift through the important events, we found that our list had 2 themes: sisters and segregation. This led to some great discussion around determining importance for our retell summary and what theme we thought would really carry through to the author's message and 'big world' message. (I haven't told the kids, but Augusta Scattergood did say that said she originally thought the theme was about sisters until outside readers told her it was the bigger picture of Freedom Summer 1964.) At this point, we also had to make a list of burning questions to 1) get them off our chests, and 2) give us more specific purpose for reading. I really like a list of questions because it seems easier for some students to participate through generating questions than answers.
And a shout out to Read Side by Side for pinning the NPR Backseat Book Club author interview with Augusta Scattergood (BTW that is an author name that we all think is AWESOME.) I can't wait to share it with my kids!
---
Written by Sarah Linington --- 3rd Grade Teacher