This is my first time teaching 4.4, Children of the Gold Rush, and I'm really enjoying it! My students love the topic so far, and all the background knowledge-building has led to great questions about the time period, people, and geography of the Klondike/Alaskan gold rush.
Prior to starting the unit, I made arrangements for a field trip to the Klondike Museum in Seattle, collected some books on the topic, and contacted one of the authors, Claire Rudolf Murphy. I saw online that she has done school visits and wondered if she might be able to visit my school. However, she lives in Spokane, so a visit wasn't possible – but she suggested having a Skype visit with my class! We are working out the technical details; I'll let you know how it turns out. I know my kids will be really excited.
Poster
Once again we are creating a poster about the book, and this one filled up quickly since the introduction provides answers to questions about the setting, important events, and author's message. Since this is a new genre, I also included on the poster a section to tell about the genre and structure of an anthology.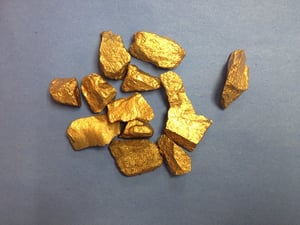 I'm thinking about giving each student who identifies the author's message in their retell summary a gold nugget. And by gold nugget, I mean a piece of gravel that I spray painted gold. (I got the idea when I found a can of gold spray paint in my garage) I think they'll be really excited and it'll be a fun way to acknowledge the good thinking the students show through their retell summaries.
Good luck on your testing next week, and happy reading!
---
Written by Janet Erickson --- 4th Grade Teacher