Formative and summative assessments are included.
The assessment book will guide teachers in using data collected from multiple measures to determine the strengths and areas of improvement for readers. Teachers will learn how to differentiate and adjust instruction to best meet individual students' needs. Teachers are guided in how to provide explicit feedback to students and encourage self-reflection and goal setting. Teachers are given the following assessment tools in the guide and online: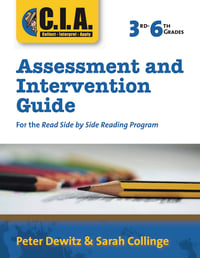 In addition to the assessments in the Assessment Guide, we recommend using a standardized assessment that will provide a percentile ranking. Examples include, but are not limited to:
Star Assessment (Renaissance Learning),
iReady (Curriculum Associates); and
Map Reading Growth Test (NWEA).