Did you know that only half of small businesses survive at least 5 years? (Source: Bureau of Labor Statistics.) This is why I am so happy and proud to announce the 5th birthday of my growing company, Read Side by Side Publications LLC. Why have we made it to year five?
1. Our company is defined by these three goals:
To Place Quality Materials in the Hands of ALL Students
To Keep Teachers in the Profession through Sustainable Practices
To Close the Achievement Gap with a Love of Reading
2. We have an amazing product that sells itself!
The C. I. A. Units of Study (which were in the pilot phase when our company began in August of 2011) are the only product on the market for ELA that focus on chapter book reading! Teachers who value using novels in their classroom have few resources available to them to help them with this endeavor. The C. I. A. units not only provide scripted lessons for using high quality novels, the approach itself, outlined in the book Raising the Standards through Chapter Books: The C. I. A. Approach, equips teachers to successfully teach using any novel! Teachers who use the C. I. A. program are our greatest marketing ambassadors. They do not hesitate to spend their own money on our materials, and they enthusiastically share their success stories with other teachers and buildings.
3. We continue to add new products.
Read Side by Side is always working to add new products to our shopping cart, because we know that teachers need to be armed with the resources that make teaching more productive, and their lives more sustainable. After publishing several of our C. I. A. Units of Study for grades 3-6, the company launched part 2 of the program, our Book Club Teacher's Guides, in 2013. These guides make the C. I. A. curriculum a comprehensive program allowing districts to purchase as a reading adoption! Since these guides have been on the market, we have had schools and districts all over the U.S. choose C. I. A. over other popular programs.
Our product list does not stop there! Now on our website, teachers can download rubrics, checklists, and resources for formative assessment. Soon to publish will be our book Formative Assessment in the C. I. A. Classroom by Bethany Robinson, which teaches how to use all of these tools powerfully in the classroom.
Finally, our new book boxes encourage students to read beyond the school day as they select titles for independent reading that match the genre and topic of the C. I. A. Units.
What's next for Read Side by Side? With so many ideas in our idea bank, the sky is the limit! Keep watching our website for announcements of new product.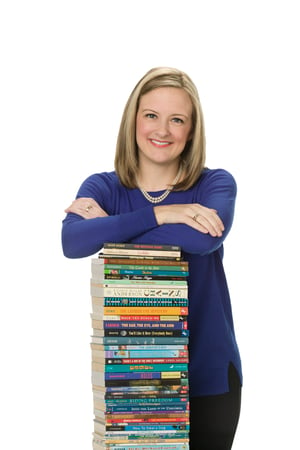 ---
Written by Sarah Collinge
President & Founder
Read Side by Side Publications LLC.
Est. August 1, 2011